West Asheville
West Asheville's annual All Go West festival in April reflects the sentiment of many people who live there and elsewhere in the Asheville area: This is a vibrant, fun place to be, hip to the hilt. More and more people are going west as West Asheville revitalizes itself with restaurants, pubs, coffee shops, live music venues, six parks and other attractions.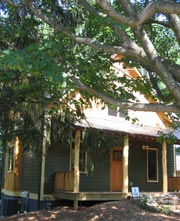 Located just west of downtown, this unique area of Asheville blends commercial and residential uses into a walkable, tight-knit community with such neighborhood hangouts as the Westville Pub, West Village Market and Deli and the West End Bakery. It's a densely-populated place with generally small lots and homey houses. Neighbors know each other and hang out together on front porches and at potlucks and other gatherings.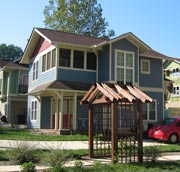 In 2007, this part of Asheville was rated the number one eco-friendly community in the country by Natural Home Magazine. If you want to purchase a green home, chances are it will be here. Almost all Asheville's green building urban infill. Denser city construction is considered greener than spreading out into the rural areas.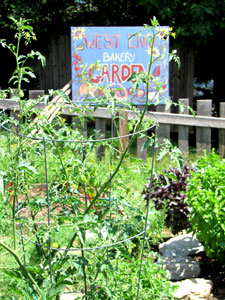 Haywood Road is the economic pulse of the community. The western branch of the public library system is on Haywood, along with churches, a grocery store, ice cream shop, restaurants, clubs and other businesses. The mix along Haywood includes the Wi-Fi coffee lounge Izzy's, Altamont Brewery, Short Street Cakes bakery, Orbit DVD and Harvest Records (among a handful of record stores in Asheville that actually sell record albums). In addition to some up-scale establishments, you may enjoy the quirky, hole-in-the-wall businesses. The funky factor is big on these streets.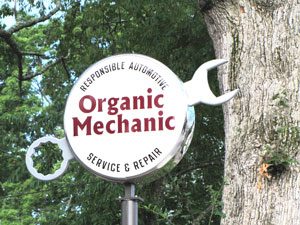 West Asheville is an entertainment hub, too. In addition to clubs with live music, theater fans will want to check out the new Anam Cara Theatre Company, which offers progressive stage productions. And another music hall is planned.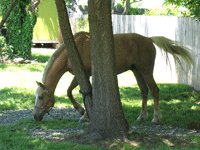 You'll find lots of opportunities to be outdoors in this community, which originally was a separate town, incorporated in 1889. A community garden on Bryant Street brings people together. And several parks in the area are on the French Broad River, with opportunities for fishing, boating and paddling. You can play with your canine companion at the French Broad River Park, known as the "Dog Park" because of its designated area for exercising pups.
Not quite sure where this horse came from, but it was waiting for someone outside the West End Bakery one day!
As a self-contained but diverse community, some people think West Asheville is the perfect place to live.
---
By Jess Clarke, Asheville writer, editor, proofreader, poet. Contact her here.
---
What are the homes like?
You'll have to drive around to see the diversity of homes in this area. The neighborhoods are so varied. You may not like one area but love another, so plan a day to look around and treat yourself to breakfast, lunch, dinner or just a snack at one of the great places to eat here on Haywood Road.
---