Creating Community in Asheville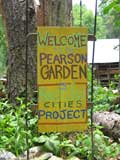 There are lots of people working at creating community in Asheville. If you've clicked on this link, you may have an idea of what I'm talking about.
Around 2008, there were a number of people seriously thinking about creating community, but most of those efforts fell apart when the economy became so uncertain and real estate took a dive.
If you were financially secure and could sell your home, it wouldn't be too hard to get together with some others and build a great community together. But, under the circumstances, it wasn't wise.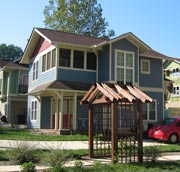 A couple of developer-led community projects, as opposed to resident-led, did finish before things got too bad. These are Gaia and the Hudson Street Cottages - both small, urban infill projects in West Asheville.
Currently, there is another project underway at Crest Mountain Village. This is a larger development about five minutes from town in a more rural setting.
These developer-led projects are not really "intentional" communities. An intentional community begins with a group of people who come together first and decide to create a community together. These developer-led projects are planned in such a way that who ever lives there has a better opportunity to participate with others in creating real community. They are also "green" with HealthyBuilt Homes, shared gardens, and so on.
There really is more to creating community in Asheville than housing in close proximity. As a matter of fact, you can have homes very close together and have no real community - and, you can also have really good community without even being in the same area - such as online communities or other kinds of face-to-face groups.
Transition Asheville may be of interest to you. This group is part of an international movement and their focus is "co-creating a sustainable Asheville beyond peak oil." Actually, the concern includes the interrelated effect of peak oil, the economic crisis, and climate change, not just peak oil. The belief is that local communities need to take leadership. We need to start working together to solve the problems we're facing, before it is too late.
Asheville is the kind of place that attracts people who are interested in being involved together in some way. There are all kinds of communities of people who have something in common - it could be anything from bicycle riding to community theater to organic gardening to saving the world.
Asheville has also attracted a number of people looking for the kind of community that brings people together as neighbors to share and care for each other - intentionally or not.
These kinds of communities can be: loosely defined, somehow intentional, or very intentional - perhaps taking the form of cohousing.
People who already live in close proximity to each other may decide to share a garden or eat a meal together once a month.
A group may decide to buy land together and build homes there, where they can grow a community together from scratch, sharing responsibilities and privileges.
Or, there could be a big old house or existing apartment complex for sale that a group decides to buy together and transform into a special community - "retrofit cohousing."
There's no limit to how creative community formation can be. You can do it in the city or the country. It can be for all ages or just young families or only active adults.
Some communities grow up around certain philosophies or faith traditions. Others may share a source of income with many involved together in some kind of business.
More often, these days, the residents are independent in their vocations and beliefs, creating community in Asheville by participating in shared responsibilities, decision-making, and being caring neighbors.
Living in community offers solutions for many of the life issues we encounter these days such as the concerns of the Transition movement - peak oil, the economy, healthy food, healthy living in general, quality of life, retirement challenges, and so on. It's about sustainability. It's a step beyond trying to be green...
...and it's not easy! There are challenges to community. If there weren't, we would probably all live together in bliss.
I'm working on some links for you to learn more about some of efforts at creating community in Asheville. So, if it interests you, please come back. In the meantime, you can also contact me directly.
---
Go to Asheville North Carolina Real Estate Home
from Creating Community in Asheville
---
For more on creating community in Asheville
or anywhere else with cohousing...