Asheville Dream Home
Figuring out your Asheville dream home can be both difficult and fun!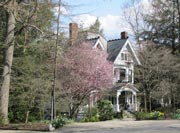 You need to make a list of everything you want in a house and its grounds. Everyone in your household should also make a list. It often works best if you all make your lists in private. After several days of working and mulling them over, you should get together and discuss what you've come up with.
You should be open to what everyone has come up with. On the other hand, if you have a high school junior or senior in the family who will be moving away from home soon and she is the only one who really wants a garage where you could build a climbing wall – that may not be a priority.
Here's an example of what not to do...
Once when we moved, my mother came with us. I made her comfort and concerns my top priorities, even though we didn't brainstorm together, just assuming. About two months after we moved into our new home, she decided to get her own apartment. We were stuck with the wrong house. You need to be able to think clearly and communicate frankly, but sensitively, with each other.
One of you really wants a condo downtown, but the other one wants several acres in the county where you could have goats and chicken. Hmm… You'll have to come up with some compromises.
This step may take a while, but it's very important. You need to share the dream, if there's more than one of you.
Make a list or use small, colorful sticky-notes with all the things you want and need. Number of bedrooms and baths, kind of bathtub, how many floors, garage or not, basement, house style, landscaping, floor plan…
…everything you can think of you may want or need. Some of these things you can always add later – like fruit trees and sky lights, but some things – like yard size and floor plan, may be harder to change.
Next, you need to decide which things are needs and which are wants. Order your lists or sticky notes into those two categories. After that, prioritize everything.
Copy that list into your notebook. You'll need to return to this list constantly as you visit homes. Don't let yourself get distracted. Be sure your Realtor knows what's on your list and what your priorities are!
You're getting closer and closer to your Asheville dream home! Don't slow down now...
...on to Step 8!
On to Step 8 - The Real Estate Market

Return from Asheville Dream Home to Home Buying Guide

Return to Home from Asheville Dream Home