We Love the LAAFF
by Lucy
(Asheville, NC)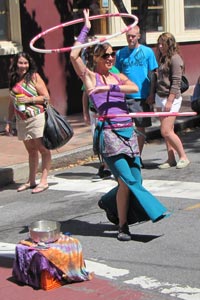 Hoola Hooper
Lexington Avenue Arts and Fun Festival - it's our favorite Asheville street festival. Not too big and not too small. All up and down the street there are tents of vendors, musicians, artists and that's not the half of it. Lots of the people who attend the festival dress wild! Every color hair, all kinds of tattoos and piercings, crazy outfits - and I don't just mean young people. There are some older ones who are really out there. It's just a fun time.

You can walk up one side of the street and down the other a couple of times to be sure you don't miss anything. And you can look at the music schedule to be on hand when your kind of music is being played.

You can watch all kinds of performers who have containers to accept donations. The festival itself is free, though. But you may want to buy something - a peace flag or tied dyed t-shirt, or whatever. Maybe you can even do some Christmas shopping, although it's not at that time of year.
Join in and write your own page! It's easy to do. How? Simply click here to return to Your Asheville Festival Story.