The Asheville Tourists
Baseball Team

The Asheville Tourists - Asheville's very own minor league baseball team! What fun! They've been the Colorado Rockies farm team since the mid '90s. I don't understand how all that works. But they play Class A in the South Atlantic League. That makes a little more sense to me.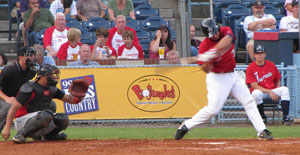 Some Baseball History
The year 1897 is the earliest date on record for the Asheville Tourists, so they are definitely part of Asheville history and culture. The ballpark they call home is McCormick Field, which first opened in 1924. I love this classic ballpark, which is located right on the edge of downtown.

McCormick Field and Fenway Park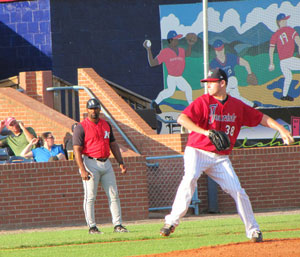 For those of you who know about such things, the right-field wall, until recently, was 35 feet high. That's just about two feet shorter than Fenway Park's Green Monster (37' 2"), which I also happen to love! Fenway, by the way, was built just 12 years before McCormick Field and is the oldest Major League baseball stadium currently in use.

Now that there's a 45-foot scoreboard where the 35-foot fence used to be, fewer home runs are getting out of the park!

Unlike the Red Sox Fenway that holds just under 40,000, which is very small for a major league stadium, the Tourist's ballpark only holds 4,000 - 1/10th the size, cozy!

A Small Ballfield Can Give Big Fun
You might think a smaller ballpark wouldn't be as much fun as a big professional one, but I think the experience is still great!

Just about every time we go something special seems to happen - like, once we were tapped to enjoy the Clubhouse Suite, for free. We were just randomly chosen. We could help ourselves to the buffet and enjoy the game from the private deck. On other visits we were given free baseball caps,  baseball bats, and once an envelope with money in it.

Asheville: Beer City USA
The food and drink is great, too. You know, Asheville has been voted Beer City USA a few times for all the great local breweries, so you can count on some of that good beer, if you're so inclined. If you go on Thursdays, they have Thirsty Thursday specials with extra low prices on beer.

Fireworks and Family Fun
Do you like fireworks? About six times a season there are special fireworks nights, in addition to Independence Day. If you have kids, there are often special activites for them and Monday's kids eat free! It's a very family-friendly place!

So, if you like baseball - or even if you just like to get out and do some kind of fun, social thing occasionally that's not going to a restaurant or performance of some sort, you may really enjoy a trip to McCormick Field for an Tourist's game.

Be sure to get there early enough to find a good parking place!

---
Resources:
The Asheville Tourist's Official site
Wikipedia
Ballpark Digest
Boston Red Sox

---
Here's a little video taken at an away game!

---
Go to Home from The Asheville Tourists
Return to Asheville Information