My Green Story
My green story goes back to my childhood.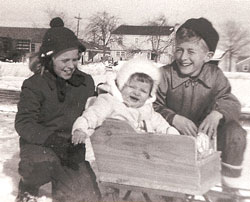 When I was a kid we played outdoors a lot. I was priviledged to live in a semi-rural area.
Playing in the woods, building forts and treehouses, floating on rafts in the river, climbing trees - these were all wonderful childhood pastimes that are now great memories.
My parents both loved the outdoors. We enjoyed camping, hiking, fishing, skiing - anything outdoors.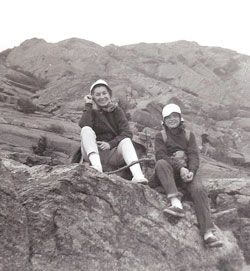 My mother was also an artist and a student in an art school that had an architecture program. I loved to go with her and roam the architecture department.
At a very young age I had my own drawing board, t-square and triangles. I loved designing houses in natural settings. I later majored in environmental design - a great mix of my love for art and nature.
A variety of other interests took me off that track and I ended up living in Papua New Guinea. While there I experienced really living off the grid. I had solar power and hot water as well as a cistern to catch rainwater. Laundry was done at the river by hand - I know, that's a little extreme.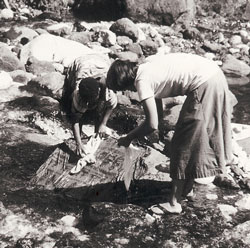 That type of lifestyle was more common there, of course, than in the States. We didn't have any choice. There, we had to live green and here, in many places you can't live green.
When I moved to Asheville I met with several Realtors and asked about green homes. Did they know of anything at least passively solar? They just looked at me like I was speaking another language.
I didn't have a lot of time and didn't know where else to turn - and I didn't have a strategy - so I bought a house that seemed to fit the bill - a nice house, but not green.
Don't let that happen to you! You do have a choice in the Asheville area.
Soon after I moved into my home, I heard that the Asheville Board of Realtors was beginning a training program to teach Realtors about green building and how to help clients interested in purchasing a healthy, energy efficient home.
Oh! Too bad! I wish I had known such a Realtor when I needed one!
Well, I didn't waste any time in becoming one myself. I wanted to be able to help people like me.
So, here I am...ready, willing and able to help you. If you have any green questions, please let me know. Do you need a Realtor who understands the green housing options? I can help you.
You can visit my Asheville Green Living and Real Estate Blog to learn more about living green in Asheville and see some home possibilities.
---
Return from My Green Story to Home

Return from My Green Storyto Go Green!