Grove Park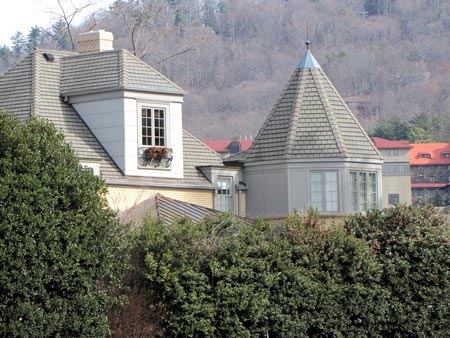 The beautiful Grove Park neighborhood is one of Asheville's historic districts. It's located in the area just north of downtown near the Inn and the Country Club. In the photo above, you can see the inn to the right, beyond this home.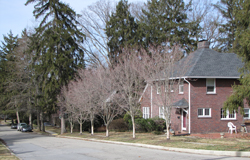 This neighborhood was designed by Edwin Wiley Grove and Chauncey Beadle. They took great pride in creating a residential community that was on the cutting edge of early twentieth century design.
If you take Asheville's Historical Trolley Tour, you'll drive through this community and if your tour leader is as good as ours was, you'll get the full story with an explanation of the curved streets and tree canopies, as well as the park at the entrance.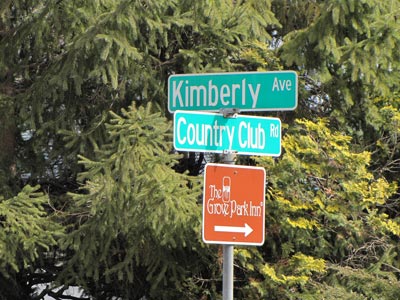 Driving north along Kimberly Avenue is a treat with the Grove Park Inn to the right, beyond the golf course where President Obama played golf with his friends on a family vacation in Asheville in 2010. On your left are gorgeous homes. But be careful! As you're enjoying the sightseeing, you'll need to watch the road if you're driving because there are obstacles to keep traffic slow.
The stone building Grove used as his office was designed by Richard Sharp Smith and is still on Charlotte Street and is currently in use by the local historical society.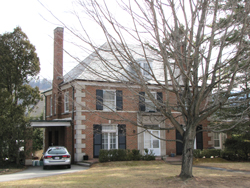 Driving through this neighborhood is a treat as you observe the wide variety of architectural styles. Try to guess them! Colonial Revival, Georgian Revival, Tudor Revival, Bungalow (of course), Shingle, Queen Anne, Neo-classical, Italian Renaissance and more.
Many of the homes are larger ones that were built in the early 1920's, part of Grove's original vision, but there are also newer homes in this community, which is known for higher prices.
---
Return to Asheville Communities from Grove Park

Go to Asheville North Carolina Real Estate Home