Green Tree Realty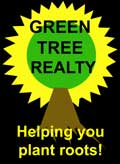 Green Tree Realty was the name of my real estate business. I wasn't part of any franchise or any other national or international group - I was just "local".
I loved having my own company! I had my own beliefs, goals and values as foundations for my business. You'll find there are a lot of people in the Asheville area who love having their own businesses. Maybe you'll have your own business here, too.
For most of my life I worked with nonprofits that existed to provide help to people in need. That's the way I ran my business, too. In real estate, though, it's hard to make ends meet if you tend to give your time away. The tension finally caused me to decide I would rather earn my bread and butter a different way and offer help to people who want to move to Asheville just for fun.
I'm happy to help you make Asheville your home. I can give you suggestions and guidance, but when it comes to having a Realtor represent you, I would be happy to refer you to someone who is a practicing agent I respect. If you have no objection, they may offer me a referral fee. Please don't think that influences who I recommend, though. I only recommend people I would like to represent me if I were looking for a home.
I also believe that each person is very unique and may be more helped by one real estate professional than another. I've developed a wide network of colleagues and will be happy to find the one who I think will work best for you - or a couple for you to choose from.
My passion is Asheville's wonderful healthy and energy-efficient green homes such as this one built by Jade Mountain Builders.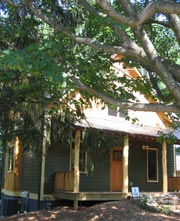 When you're thinking about your needs and wants in a home, I may ask if you've considered something green and will be happy to tell you about what's available and why it's considered green - BUT, I'm very happy to help you find what YOU want, green or not. My goal is to help you meet yours.
Please feel free to contact me if you have any questions!
Return to Asheville North Carolina Real Estate Home from Green Tree Realty