Asheville Resort Hotels
Asheville resort hotels are here to pamper you like you've never been before!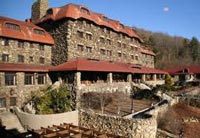 Everyone deserves to be pampered from time to time. Maybe you've already discovered the Asheville resorts. That could even be what first brought you here.
If not, you'll have to visit these special places to discover for yourself what they're like.
Every year around the holidays, the Grove Park Inn Resort and Spa presents the National Gingerbread House Competition. People come from all over to see the display. It's one time when people are invited to experience the resort environment free of charge.
If you aren't ready to spend the night, there are other things you can do there.
The Inn on Biltmore Estate is another Asheville hotel where you can indulge in an award winning resort.
There's also the Crowne Plaza Resort. I've attended many meetings and conferences here, but it's certainly more than a meeting venue. Tennis and golf seem to be specialties.
Have you had a dream stay in one of Asheville's resort hotels?
Have a Great Story about an
Asheville Resort?
Did you have a great stay at an Asheville resort? Tell us about it!