Asheville Extended Stay Hotels
One of the Asheville extended stay hotels may be just what you need on your visit. If you'll be here for at least a week to explore Asheville or if you'll be visiting homes, having a bit more room and a little kitchenette may be ideal. Also, at some places, the longer you stay, the lower their price.
Here are a few places you'll want to check out. I'm not including everything about each place. You can look at their websites. But these are some places I would say are worth checking out. There are more to come, so check back again. And please let me know if you have a favorite story to tell about staying in an Asheville extended stay hotel!
Tunnel Road
If you've been here before, you know that Tunnel Road is the main commercial corridor heading east out of downtown Asheville. It's home to many chain restaurants, some local Asheville restaurants, grocery stores, gas stations and lots of hotels and motels, including some Asheville extended stay hotels. I'll tell you about some of them here - and please note that they are not in any kind of order.
Homewood Suites by Hilton - 88 Tunnel Road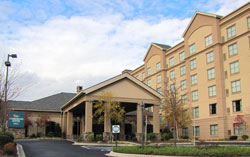 This is a really nice, upscale Asheville extended stay hotel with studios and apartment suites. You enter the expansive, well-appointed lobby and are immediately at ease. The enormous fireplace, background music and friendly staff greet you. It's very convenient and close to downtown.
I think they've thought of everything to make your stay easier, including a free service to get your groceries! But you may not want to use that service because there's an extensive complimentary hot breakfast with a varied menu each day - and there's a complementary evening meal with beer, including some of our local brews, and wine! Wow!
The studios and suites come with everything you need. There's even a fully equipt kitchen with a dishwasher, full-size refrigerator and all the dishes, pots and pans you'll need.
There's a large fitness room overlooking the indoor pool. There's wireless and wired Internet with two phone lines with voicemail in each studio/suite. You also get a 32-inch LCD TV with a DVD player. You can sign out DVDs in the "Suite Shop," which also carries frozen food, snacks, toiletries and other items to purchase.
If you happen to be here during a warm enough time, there are even outdoor grills for your use.
I know, you're probably thinking that this is one of those you-get-what-you-pay-for, really expensive places...
...But, no! Depending on how long you're staying, the season and several other factors, you could spend as little as $75 a night and most likely not much more! And that includes two nice meals! Oh, one other thing - they do not allow pets.
Holiday Inn Hotel and Suites - 42 Tunnel Road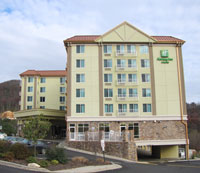 If you're used to staying at Holiday Inns when you travel, you know that they pride themselves in consistance, having some of same features everywhere. The manager who guided my tour told me that they serve the same full-service breakfast at all Holiday Inn Suites, which is not complementary. If you're used to Holiday Inn Express, it's free, but not at the Suites. There is an excellent restaurant with a large dining room and heated outdoor patio at this Asheville hotel, where you can buy your evening meal for a reasonable price (about $8 to $13). There's bar, too, and it offers Asheville-brewed beer.
This upscale Asheville extended stay hotel has wireless and wired Internet in the studios, one and two-bedroom suites. They also come with 32" TVs - up to three of them in the executive suites.
They don't have full kitchens but a small counter with a small fridge and microwave.
Some of the rooms have electric fireplaces and jacuzzis.
No pets are allowed. Also, this Asheville hotel is 100 percent smoke-free, with a $250 fine for smoking, however, that some people don't mind paying, according to Sam, the manager.
You can expect to pay anywhere from about $80 to over $200 a night.
Both of these first two Asheville hotels are located very near I-240, but they seem to be pretty quiet, partly due to the low-e argon windows. If you look at the windows from the outside, they have a greenish tint. That's the argon, a gas between the glass layers that keeps summer heat out and winter heat in. It also keeps noise out.
SpringHill Suites by Marriott - 2 Buckstone Place, off Tunnel Road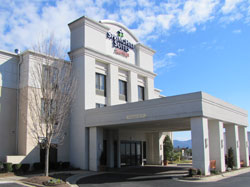 This newly renovated Asheville extended stay hotel is 100 percent non-smoking and does not allow pets, except service animals for people with disabilities. They have a full, complementary hot breakfast that includes waffles and a buffet of items such as eggs, sausage, biscuits and oatmeal.
There is wired and wireless Internet, a very nice, 24-hour fitness center and indoor pool with whirlpool. The person who showed me around made sure to tell me that the pool is treated with bromine, not chlorine. He seemed to think it was superior to chlorine. There seems to be some discussion about which is better online - and it's quite complex, so you'd better do your own research. Let me know what you find out!
The staff were very friendly and the place seemed to be really upbeat in general. The suites are spacious and include coffee service, microwaves and mini-fridges. The mattresses are plush and bedding includes down comforters. The 37" flat panel HDTVs include premium cable.
Just to give you a general idea, rates begin at about $89/night.
Courtyard Marriott - 1 Buckstone Place, off Tunnel Road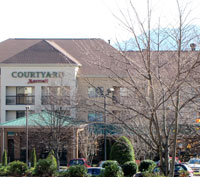 This is another Marriott hotel in Asheville, right next door to the previous one. According to the manager, this one tends to be about $10 less per night. It was kind of hard to understand what the difference was except, at this one you only get a microwave or fridge if you ask for them. There are 2-room suites available and long-term stay discounts kick in for seven or more nights.
There's no free breakfast here, but they have a very nice cafe that's open for breakfast and in the evening for dinner and drinks - no local beer, though. Can you tell I'm really proud of our locally-brewed Asheville beer?
There's a 24-hour fitness center here, too, and an indoor pool with whirlpool.
This is another really friendly, upbeat Asheville extended stay hotel. I have to tell you that I was quite impressed when I walked into this hotel. The lobby is wonderful and very inviting. It's modern, open and light with plenty of seating, a great place to meet with your Realtor!
Rates seem to start at about $84 per night.
Both of these Marriott-owned hotels are at the end of Buckstone Place, a short street off Tunnel Road. SpringHill is to the left at the top of the hill and the Courtyard is to the right.
Return from Asheville Extended Stay Hotels to Asheville NC Lodging

Go to Home from Asheville Extended Stay Hotels