Asheville Christmas 2010
Asheville Christmas 2010 - this will be a year to remember! Wasn't it just in the newspaper about a month ago that this would be a mild winter with very little precipitation? Hmm...
Well, it's been fun.
On the 23rd, two of my kids came. Ellie and her husband Andy came from D.C. and they picked up my son Jesse in Virginia on the way. Jesse is visiting the east coast from where he lives in Montana. Oh, and to our surprise, when we opened the door to greet them, a little, 4-legged, furry thing came bouncing in - Mr. Buckles (a Yorkie-Poo)!
The house smelled like a holiday with special foods baking in the oven.
We talked and played with Mr. Buckles until we couldn't wait another minute for our special dinner. A fire crackled as we all sat around feasting.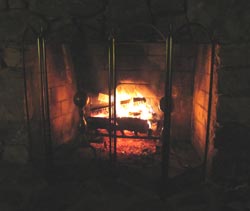 The next day we talked and talked some more. So much catching up to do. Mr. Buckles had fun playing in the leaves in the fenced back yard.
We all piled into the car and headed out to the N.C. Arboretum for a hike. Mr. Buckles led the way. It was cold and cloudy, but fun.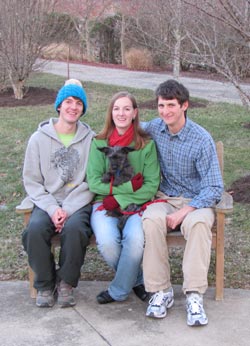 Soon after we got back they had to hit the road again for their next stop - after we opened our gifts!
And it was a good thing they left when they did or they would still be here celebrating Asheville Christmas 2010 with us!
Christmas morning we woke up with lots of snow coming down and about an inch on the ground.
Determined not to let the snow get too out of hand, I pushed a snow shovel up the driveway to get the newspaper and back down again, to make a path for the car - we have a long, sloping driveway.
Then I got busy doing other things - after all, it was Christmas! The next time I checked on the progress of the snow, there was about another six inches. Whoops! Where did all that come from!
We shoveled some more - while it continued to come down.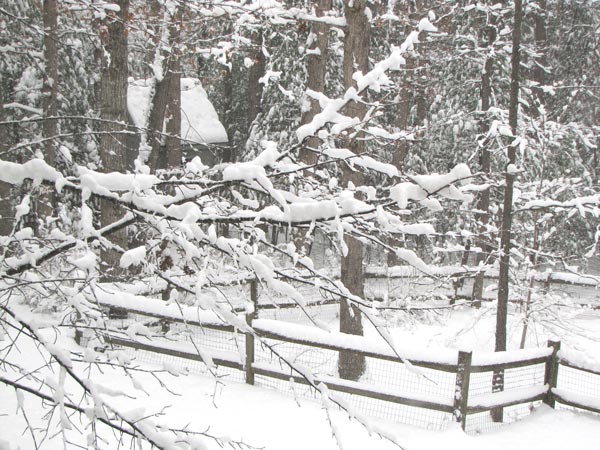 Then we dug out our cross-country skis! We skied down our street, through the woods and onto the Blue Ridge Parkway, which always closes when it snows. It was glorious!
It was also strenuous. It felt great, though. We saw more people out walking in the snow, enjoying their Asheville Christmas, than we ever see in good weather!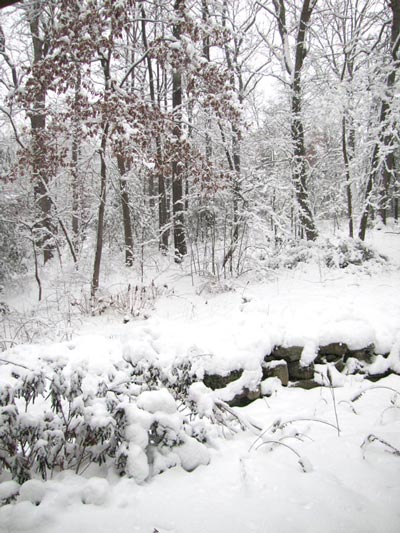 We got home, shoveled a little more and then went in to get our left-overs ready for another great evening meal by the fire.
Classical guitar music, great food, a blazing fire - it was blissful.
This morning when we got up (December 26th) it was still snowing a bit and there was more snow on the ground to shovel. I think we've had about a foot here. I just checked the forecast and we could get a few more inches in the next day or two. Whew!
This is very unusual for Asheville. We'll never forget our Asheville Christmas 2010!