Asheville Baby Boomers
Asheville Baby Boomers - let's face it, we're all getting older. Yes, even you! I know you don't believe it and I'm sorry to be the one to have to tell you, but it's true. Age is coming upon us.
If you were born between 1946 and 1964, you're a Boomer. You're in the largest generation in U.S. history. You aren't a kid any more. But, many of us still feel like kids and we can't believe we're "gettin' up there." Of course, we have a long time to go and may never retire, but then again, some have retired already.
The National Association of Realtors recently conducted a study of about 2000 Baby Boomers to understand what it means for housing to have this huge number of people moving into a new stage of life. According to the Realtor study, this group of people is uncertain about when and where they will retire. Some of us say it will happen when we are 70 and some say never. Forty-two percent say they want to retire in the South. Asheville Baby Boomers are in that group!
Eight out of ten Boomers are homeowners. They own 57 percent of the vacation homes and four out of ten of them plan to convert their vacation home into their primary residence when they retire. Most Baby Boomers are unsure of their finances for the future – they're a bit anxious, including us Asheville Baby Boomers. Three quarters of us say we're not adequately prepared.
The following gives you an idea of what Baby Boomers want in a home as we move into our "older" years, whether we retire or not - in Asheville or not. This is from a variety of reports including Deborah Hornblow's article in LexisNexis, "The New Sleek Chic: Design Trends Reflect Desires of Baby Boomers Scaling Down."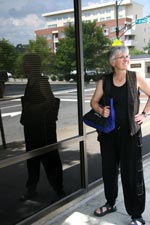 Because Baby Boomers, in general, not just Asheville Baby Boomers, don't think we're really getting old, we're redefining the aging process. Many Baby Boomers don't plan to move into retirement housing. We're a very vibrant generation! We're intelligent and creative. When it comes right down to finding a place to live in our older years, Baby Boomers are quite practical.
Baby Boomers are thinking they want maintenance-free homes because we want to have time to do the things we want to do. If we like yard work, that's one thing. But, we want to have the choice. If we want to be off traveling or kayaking or taking a class, we want to be able to do that – not mowing the lawn and doing other chores. So, a smaller home with less stuff will give us the simplicity we want. Plus, it's more eco-friendly and energy efficient, and we like that.
Green is important! Baby Boomers are interested in the environment, at least to a certain extent. And we want to save on fuel when possible. Asheville Baby Boomers are definitely among some of the most interested in green living. We think it's worth it to spend a little more on a house when it will save us money in the long run. Plus, we're health-conscious. We take our vitamins, exercise and want to stay healthy. That means we value good indoor air quality.
Baby Boomers tend to be practical. Thinking ahead means wanting practical home design so we can "age in place." Wider hallways, at least one exterior entrance with a wider door, grab bars in the bathrooms, having the master bedroom and full bath on the main floor are all important features to the Boomers. Minimal steps are important. You can always send the visiting children and grandchildren upstairs or downstairs to the guest rooms, but you need full access to the things you need on the main floor.
This generation also likes open-floor plan homes with lots of natural light. We want room for our books and hobbies – a place to paint or put the pottery wheel. And more than likely we will need extra rooms for at least one, if not two, home offices. We may have personal work we enjoy doing or we may have a home business. Many Asheville Baby Boomers seem to bring their businesses with them or start the one they've always wanted when they get here.
Community is an important consideration. Some Baby Boomers want to live with other Baby Boomers. We may be drawn to active adult communities. One survey found that most people were in this category. About 29 percent said they wanted to stay in the home they've been in. Twenty-four percent said they would love to live overseas and 16 percent said they wanted to live in a co-housing community. I suspect more people would have said a co-housing community, but they didn't know for sure what it was.
Now, amenities – that's where Asheville, NC fits in! Boomers not only want the moderate, four-season climate of Asheville, but they want the restaurants, the arts, the cultural events, the opportunities to meet interesting people and do fun things, the natural beauty, the Reuter Center for Creative Retirement, the NC Arboretum, the Biltmore Estate, the rivers and mountains, the shops downtown, all of WNC to explore – and all these wonderful things will also attract visits from our family and friends.
There are always things to do in Asheville! You can take a hike in the morning, wander through town and visit bookshops, attend a reading at one of them, enjoy a tasty lunch in a unique restaurant, visit a gallery and then head out to a concert or a play in the evening. Asheville is the perfect place to retire, or not retire. Asheville Baby Boomers have it made!
Return to Retire in Asheville

Go to Asheville North Carolina Real Estate Home
from Asheville Baby Boomers

Go to Asheville Retirement Resources