Albermarle Park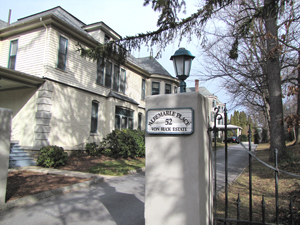 Albermarle Park is an established neighborhood just north of downtown Asheville and east of Charlotte Street. This planned historical neighborhood consists of 45 homes located on about 32 acres.
The land was purchased from a local farmer in 1886 by William Green Raoul, a successful business man. Raoul's son Thomas Wadley Raoul was the person who oversaw the development. Samuel Parsons Jr. was the landscape architect who designed the original site plan with tree-lined, narrow, curving streets along the western slope of Sunset Mountain.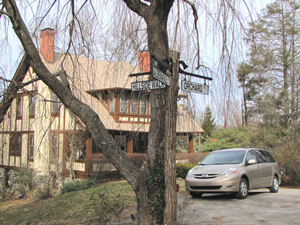 The homes were all designed to be unique and represent many different styles that included Appalachian and Adirondack, also with French, Italian and Swiss influences.
If you've ever visited the Grove Park Inn, you may remember driving by a wonderful building on Charlotte Street called The Manor.
Thomas Raoul built The Manor in 1898. This wonderful building was originally used as a boarding house and there were several cottages built around it.
In 1961, The Manor was converted into a retirement home. In 1976, it became a residential hotel. Then in 1984, it was closed when it was damaged by the winter weather.
This magnificent structure was sitting abandoned and in danger of demolition when The Preservation Society bought it in 1989. Two years later it was sold and restored as an apartment complex.
Recently, I attended a fund-raiser in the lower common area of The Manor. It's a wonderful building and serving a good purpose for housing and public functions.
Don't be too surprised if there are no homes for sale here. Who would want to leave this wonderful place! Oh, and did I mention how close it is to downtown. You can walk to everything.
---
Return to Asheville Communities from Albermarle Park

Go to Asheville North Carolina Real EstateHome