87 Lovers Loop Road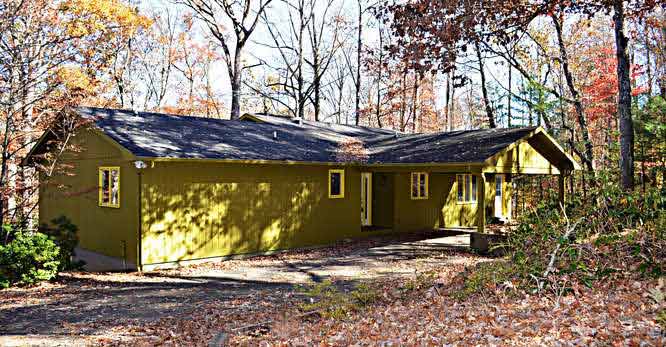 87 Lovers Loop Road happens to be a very special address – it's where I lived for six years! I can't believe it, but we've decided to sell. If you're looking for a 3-bedroom, 3-bathroom home on about an acre, within a 10-minute drive to downtown Asheville, you'll want to check out 87 Lovers Loop Road!
Here's a quick summary of features:
Private
10 minutes or less from downtown Asheville
One mile from I-40, I-240, 74A, Blue Ridge Parkway
3 bedrooms, 3 bathrooms
2660 heated, finished square feet
Garage and nice, attached carport
About 1 acre wooded, low-maintenance lot
Fun tree house
Low county taxes
City zoning, water – ETJ
Walk to Blue Ridge Parkway at the end of the street (cul de sac), hiking trails
One-level living with master suite, another bedroom and bath, kitchen, living/dining room, porch, patio, laundry and large carport on main level
Potential one-level in-law apartment in finished lower level with large family room, bedroom and full bath, parking, private entrance
Large storage room and garage on lower level
Fenced backyard accessible from lower level
Large stone fireplace on upper level
Woodstove-ready area on lower level
Radon mitigation system in place
Walk-in closet in master suite
Eat-in kitchen overlooks patio
180 degree mountain view during winter
Tall Anderson windows for great views
4 well-placed, energy efficient solar-tube skylights for lots of natural light
When people come to visit us, they often say the area is a "best-kept secret." You head out of downtown on I-240 east and take the last exit onto 74 A east. Almost immediately there's an entrance to the Blue Ridge Parkway and right after that there's a traffic light where you turn onto Avondale Road. That leads you to an area that's so convenient to Asheville, but not very built-up.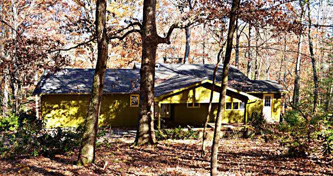 87 Lovers Loop Road is in the Reynolds ETJ. What's that, you may wonder? Even people from around here have no idea what an ETJ is. It stands for Extra Territorial Jurisdiction. It's an area outside the city of Asheville, located in the county, but it has some of the city laws. So, you get city zoning, city water and a city address, but not city taxes – what a deal!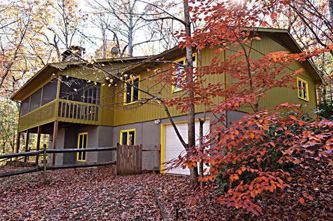 Anyway, Reynolds is a great place to be, but many people have never heard of it. They've heard of Fairview, which is the next town you come to if you keep going on 74A. And people have heard of Reynolds High School, which is in Reynolds, but they haven't heard of Reynolds. Once you've been there, though, you realize it truly is a best-kept secret!
So, what's so great about the area and 87 Lovers Loop Road? You head out a country road and turn onto Lovers Loop, wind up and around some lovely homes, lots of trees and well-kept yards and then you come to number 87. The front yard is at least as big as the back yard, filled with trees – a low maintenance yard! Lots of oaks and poplar and pine and in spring you notice all the dogwoods. There's also rhododendron and azaleas. Closer to the house there are a whole variety of shrubs and hostas. Oh, and a fun tree house!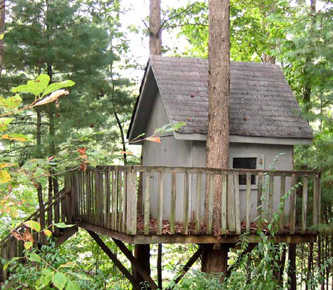 The driveway offers plenty of parking for guests. We loved to entertain and there were plenty of places to put cars. The yard gently slopes to the back so at the front, the main and upper level of the house is on the ground level and the back, lower level is also at ground level.
If you want single-level living, everything you need is on the main level – the master suite, kitchen, living area and laundry.
There's also another bedroom and bathroom there. We used that bedroom for our office. And there's a thirty-foot long screened porch along the upper level back that feels like a tree house.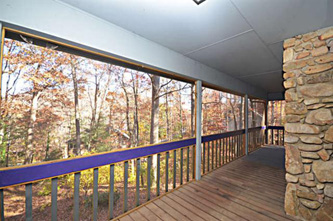 It was our favorite place. It's perfect for a hammock, which is where I took many naps and enjoyed looking up into the trees. At the front is the carport and a patio, which is where we did our grilling, just off the kitchen. We're really going to miss 87 Lovers Loop Road!
The large stone fireplace, is also on the main level in the expansive living room.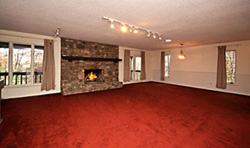 When it was too cold to be on the porch, we spent time in front of the fire. It was perfect.
Lots of storage! The master suite has a great walk-in closet.
The laundry room, has shelves and cabinets for storage.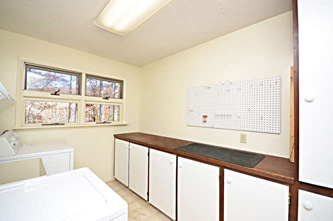 There's plenty of cabinet space in the kitchen and a pantry cupboard.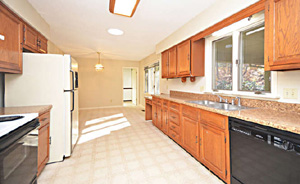 Downstairs has a large bonus room with shelves for storage and the garage also has shelves, as well as a work bench!
I almost forgot to tell you. We had our home appraised and it came out at $285,000, which is what we're asking. A great house at a great price!
87 Lovers Loop Road was a wonderful place for us and hopefully it will be a perfect home for you. Don't hesitate to call or email me if you have any questions. I would be happy to refer you to a great buyer's agent if you need someone to show it to you and represent you.