Certified green home
7 Hi Alta Avenue
For Sale
in popular
West Asheville, North Carolina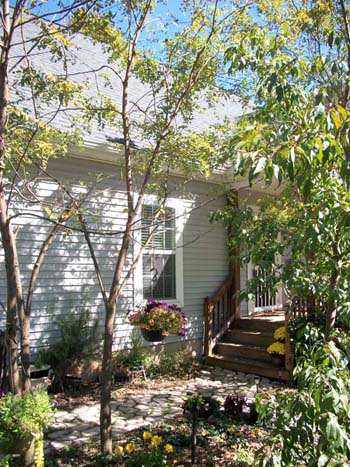 7 Hi Alta Avenue is located just 7 minutes from the hub of downtown Asheville. This secluded home, with complete privacy fencing, is in a neighborhood of responsible and friendly home owners. The house sits back from the road with a private drive and is priced at just $169,000! To hear what the owners have to say about this home, read on...
This 2006, like-new home is a certified HealthyBuilt Home, which includes EnergyStar certification. 7 Hi Alta Avenue has an open floor plan and nine-foot ceilings provide a feeling of spaciousness. All 1,500 square feet are efficiently designed for comfort and low utility expense. The electric heatpump provides heat and air conditioning, and an efficient propane gas-log stove provides ambiance and low-cost climate control.
Yard and Gardens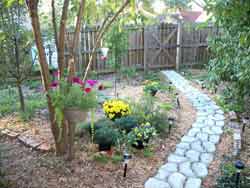 Arriving at 7 Hi Alta Avenue brings you to our privacy-fenced driveway. Along the fence is a garden and fruit-bearing vines, including fig, blackberries, raspberries, blueberries and grapes - all producing delicious fruit throughout their season. The .2-acre lot is cozy and creates a haven of privacy with the fence, and lovely trees and gardens.
An arched rose-covered entrance just inside the front gate ushers homeowner and visitors alike into a magical setting of beautiful flowers, more delectable fruits and fresh organic vegetables.
Inside this secluded lot you'll find not only an enchanting environment but also an economic food source. The lot has been carefully sculpted with raised organic, fertile garden beds.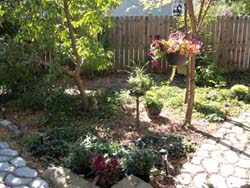 7 Hi Alta Avenue boasts a courtyard with stone walkways leading to seven fruit-bearing trees: apple, peach, pear, cherry (3) and a large mulberry tree loaded with tasty, dark red loganberry fruit last season.
Strawberry plants come alive in the spring with large red berries from over 200 plants that continue to send out runners and propagate more new plants. They share the courtyard with herb plants and bright flowers amongst the trees.
The herb gardens contain peppermint, sage, rosemary and a variety of cooking and healing herbs. Extensive mulching over landscaper's paper keeps unwanted growth from encroaching on the gardens.
An open side yard provides a flat play area for children. There's ample room for swings, slides and other playground sets. Additionally, the gates can easily be locked and secured from the inside preventing little ones from wandering off while mom or dad works in the garden.
Before moving inside the home you can visit the 12' x 16' outbuilding with an 8' ceiling, currently outfitted as a wood-working shop. It has electric lights, power for tools and air conditioning. Additionally, the roof is a 12 x 12 pitch and there is a large storage area in the upper level that has a 6' ridge. This building is nestled in the rear yard, just inside the fence with a wood plank walkway to both the front and side double doors.
For garden supplies and tools, a small, efficient 4' x 8' shed provides convenient storage and lock-up after a day of planting and watering. Three rain barrels hold fresh rain water for the gardens.
7 Hi Alta Avenue has two covered porches. The back 8' x 12' porch has a privacy screen to block the sun and wind and offers a space in the summer for cooking, resulting in reduced energy cooling expense from heating the kitchen. The 6' x 19' front porch is cooled in the summer months by vines and trees providing just the right amount of shade, leaving enough sun and light for relaxing throughout the day or watching the moon come up in the evening up as the sun goes down.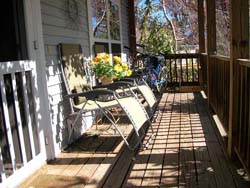 Inside the House
Once inside the front door you experience the expansiveness of 9' high ceilings and the open floor plan to the kitchen. Floor to ceiling cupboards provide ample space for food and other kitchen storage needs. There's a dishwasher, EnergyStar refrigerator, electric range and generous dining space.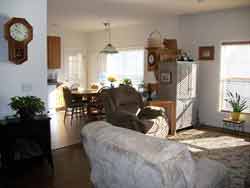 Windows throughout are large and convenient, covered with large slat, white and wood louvered blinds.
There are two bedrooms on the first floor that can also function as offices or guest rooms. These rooms are 12' x 13' and 9' x 10'. Each room has two tall windows, blinds and closets.
A large bathroom sits at the end of the hall. It has a tub/shower, toilet, double sinks, and a closet which houses a washer and dryer and multiple shelves for linens and towels.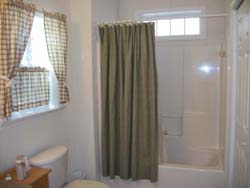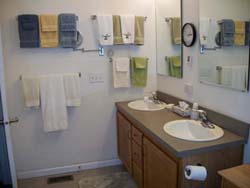 There's also an ample closet in the hall leading to these bedrooms and bath, which is currently used as a pantry.
Downstairs floors are wood laminate and vinyl for easy maintenance.
The landing for the stairwell holds coats and hats on wood shaker pegs crafted by the "Shaker Maker" owner himself.
The master suite takes up the entire second floor of the house - 17' x 35'. The master bath is 60 square feet of that space. Going up sound-silencing carpeted stairs to the second floor, the door opens onto stunning blonde bamboo flooring. Spacious and bright with louver blinds in the sleeping area, there is ample room for dressers and other furniture. A large closet sits around the corner to the right when you enter the room.
A newly-built master bathroom completes the charm and efficient use of this upper floor with its jacuzzi tub, double flush toilet, and dual sink set with cabinets and mirrors. The bath is just to the left at the top of the stairs. Next to this bathroom there is a 10' x 12' open space with a tall window for relaxing, sitting or storage. With the addition of a short wall and door it could become a child's bedroom.
Contact:
To see the house, or for more information, please contact me or the sellers:
Ron and Kathy Heatleykathy0121@msn.com(828) 254-6837
Also, you can visit their website.